Hammer Nutrition Unable to Hold off MOAT Machine, Finishes a Close 2nd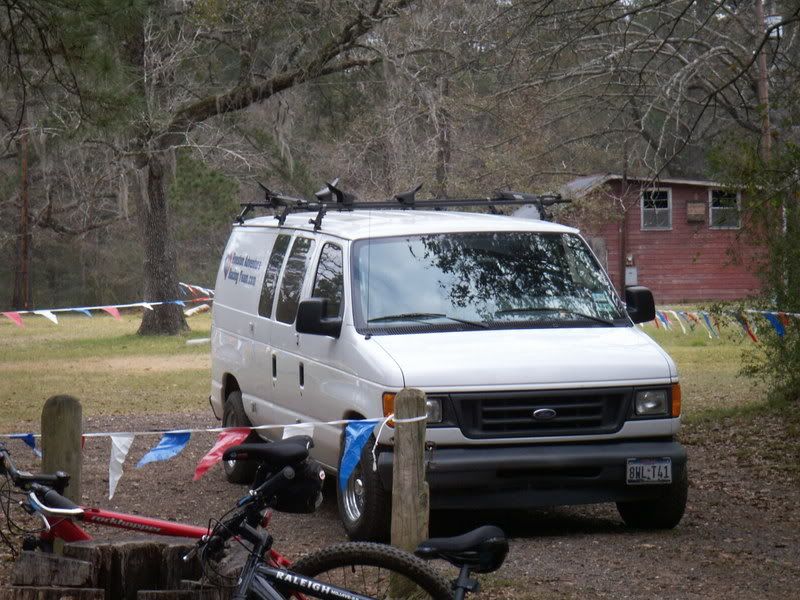 Another race weekend--so quick! This was an important one, though--it was the first qualifier of the season for the 07 USARA Championship in Missouri. Our team, HART/Hammer Nutrition was ready for this race. I seemed to be coming down with something, but a little piddly cold wasn't going to stop me now. Saturday morning came and I peeled myself out of bed while lucky ol Mo got to sleep in--lucky because the Texas Dare was a "no support" race, meaning she wouldn't be able to help. And I couldn't blame her not wanting to get up and just stand around in the cold temps while we ran around, getting lost in the park. As I left Houston, temps were in the lower 40s...not bad. When I got to Lake Houston, temps were around 30deg...COLD! This was shaping up to be just like last year. MOAT would be here to defend their Texas Dare title...difference was I was lucky to race with Jackie and the Warship as Jason and Lisa decided to ressurect the Roughriders with Michael Collins. Competition would be tight...behind MOAT, that is.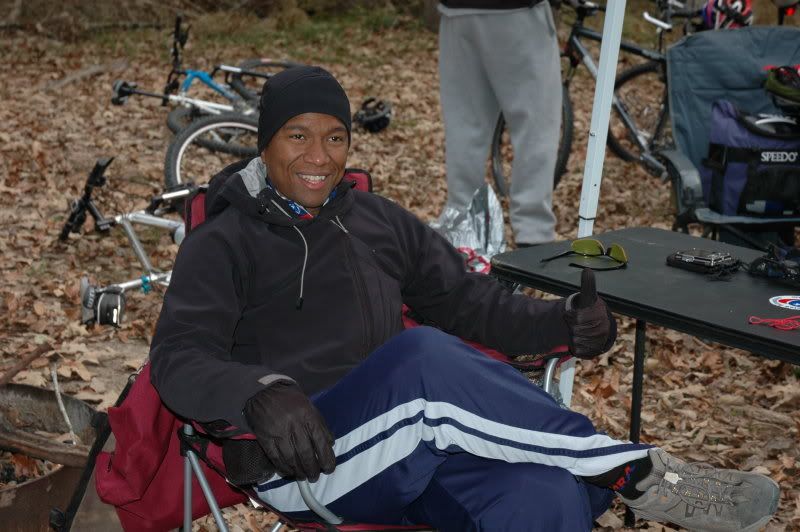 We tried as much as possible to stay warm before race start, layering up in triplicate. Again, about 15min before race start, Rick brought us together for a QandA session--no usual "pre race meeting." After that we had a very nice speech and prayer from Pastor Jerry Hovater of Camp Holy Wild. He was a really nice person with a great perspective on us adventure racers, saying that he couldn't tell us to be safe since our sport is inherently unsafe, a series of calculated risks. But he blessed us crazy people anyway. A few minutes after that, Rick handed out our passports, rules of travel, coordinates, then finally our maps. I rushed over to our TA, hoping to get some of the plotting knocked out, but we were only able to plot TA before the race started. Well, at least we knew where we started from...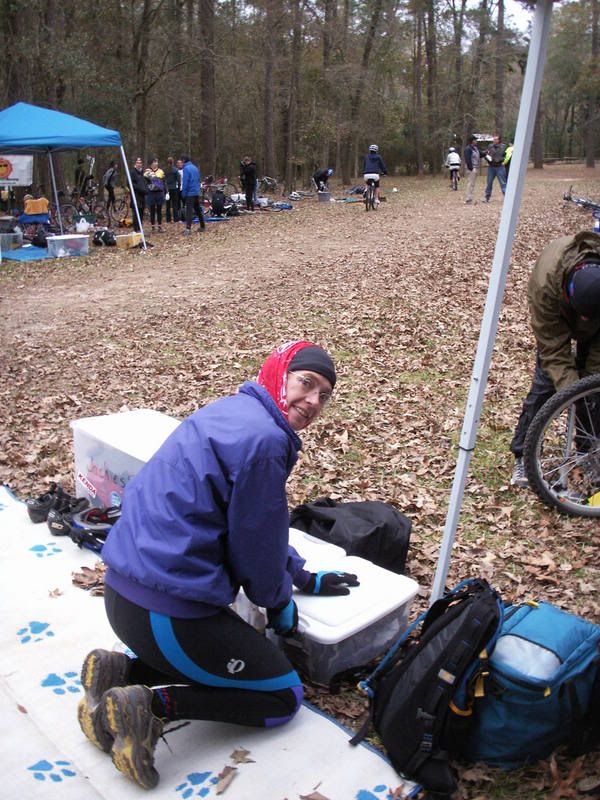 With no fanfare at all, we started on the first leg, which was a trail run around the main park grounds. We knew not to bust it out at the beginning, so we just nestled ourselves midpack. We started chuckling as we saw Tom in first place on the first leg. I knew we were not as fast as the other teams on foot, so I made sure we kept the pace constant and something that would be bareable for the entire race. I even had to tell the Warship to "take it easy." After a couple miles, we were back to TA, onto a marked bike course--the same course for the hike n bike leg for the sprint race. Again, no problems. We just kept a smooth pace with the help of the Warship. We just tucked in behind him and we motored as a team. In no time, back at TA again. This would be our first navigation leg, on foot. So we started plotting. Other teams decided to plot the first few points and then head out, but as usual I wanted to plot all points now and get them out of the way. Yes, its a lot of standing around for Weihan, but that's how I do it. 20pts plotted and we were off. The 1st 2 CPs could be visited in any order, so we decided to go for CP2 first since it seemed to be the easier of the two and I wanted to get the navigation off to a good start. We trudged along and traveled south on the main private road through the park, most of the time we were pacing with TooCoolRacing. On our way there, we saw MOAT and the Roughriders heading the other way. CP2 was right there on the powerline easement.
We headed back up north to CP1 and I had all that time to decide whether to take the easy, albeit long route along the private road and 1485, or back past TA and do a little bushwhacking along Peach Creek. I made my decision at the last second, at the fork in the road--we would bushwhack. We started off nicely and I was keeping an eye on my compass. But somehow I strayed from my compass AND forgot that Peach Creek was full of water. I kept following what I would later realize was a fork in Peach Creek. Thankfully, I finally caught it and started just going straight up north, to get to 1485. It was rough travel, but we eventually got back on track. We lost considerable time and we knew this because we had gapped TooCoolRacing by a few minutes and they ended up getting to CP1 right before us. Unbelieveable. I was determined to find a faster way back and eventually found a dirt road on the west side of Peach Creek. It was definite smooth travel, so hopefully we would be able to make time up. Along the way, we ran by a deer feeder, so we all made sure to duck and run in zigzag pattern if we heard gunshots. Nice. After a few minutes, with a deep sigh, we made it back to the main parking lot and ran back to TA. It was a faster route as we were able to get there a few minutes before TooCoolRacing. Man, would this too be like last year--we were battling all day long with TooCoolRacing and finally ripped 2nd place away from them late. We would see.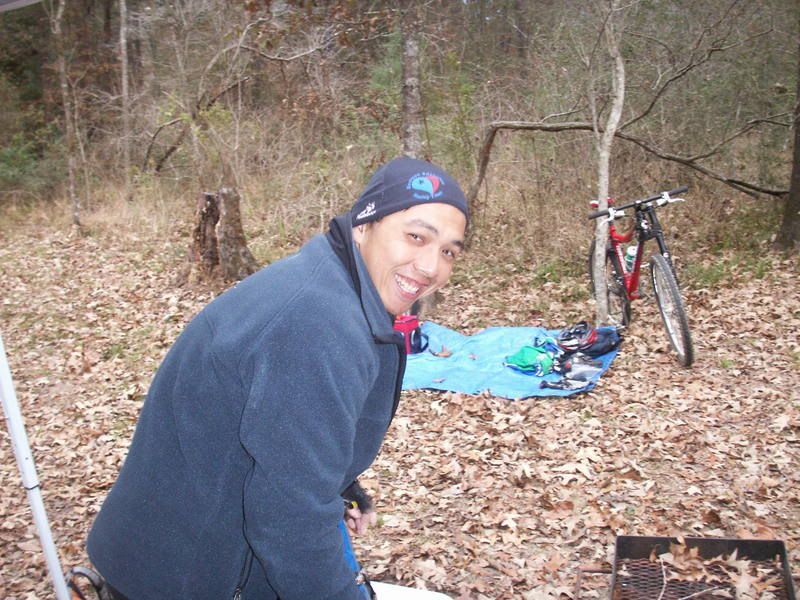 Quick transition and we were back on our bikes for two CPs. I had a good idea where both of these would be, so I just told Warship to mash. CP3 was in a gully by the east fork--no prob. On our way there, we saw Roughriders, so I knew we weren't too far behind. At that point I thought we were in 3rd place behind 1st place MOAT and 2nd place Roughriders...I would be later surprised that this wasn't the case. CP4 took a little longer, close to the east fork again, a bit south of a pond. We did a little bushwhacking but Jackie found it lickity split. Unfortunately a sprint team was just behind us when we turned off to get this point and had mistakenly ignored the signage and followed us instead. I felt bad, but the sign was up and I didn't realize that they followed us until it was too late. Oh well, they figured it out eventually. Back to TA. Next was the nav to the zip line. I felt good, we were doing very well. CP5 was in the middle of the woods and we would need to rely only on pacecounting for this one as it wasn't close to any landmarks on the map. At around 900m we stopped and went into the woods. That's when we heard Turnbull. He was racing solo and from what we could tell he was doing a great job navigating. Heck, he was a few meters away from one of the tougher CPs in the race. We whacked about 100m west and there it was. Nice. Now it was a bit more bushwhacking to CP6, which was the zipline. No problem here either--we eventually popped out on the peach creek trail and followed it south to the marked creek crossing. After negotiating the log+rope crossing apparatus, we went over to Camp Holy Wild for the ropes. We had our choice of either the wall climb or zip line. Since there was no waiting line on either, we decided to do the zip line since that should be the faster option. I went first with Turnbull. The initial drop was not as bad as the one at Lake Travis, but it still gave me a little heart in throat feeling. Woohoo! Fun! In no time, we were outta there. Tom was long gone and we slowly and methodically made our way back to TA along the peach creek trail.
After another quick transition, we were on our bikes again, this time over to the paddle put in. As we were motoring on the dirt road, approaching and passing CP5, we saw a whole gaggle of teams looking for the CP...and one team in particular caught my eye: MOAT! OMG! I had to do a triple take and I sped up to Jackie to ask her if she saw the same thing I did! They told us later that they had some navigational errors on that leg and the previous bike leg, so they were at that point over an hour and a half behind first place! Wow! And I didn't get overly excited as I knew they had the ability to wipe that deficit away in no time, which we later found out would be fact. We kept mashing south until we reached Lake Isabel. CP7 was on a creek that fed that lake, a little bit south of the lake. We got it in no time. After a couple more minutes on the bike, we were at the boat put in, CP8, in 2nd place! I was really happy at this point, but of course I knew we still needed to work to keep our podium place. The Roughriders were just a few minutes ahead of us and had a similar aluminum canoe as we did, so I was very interested to see how we would do against them. Of course, they are all rails, so they had the definite (lack of) weight advantage, or, like I like to say, power-to-weight ratio advantage. CP9 was a bit south of the put in, on a bank. As we paddled along and I tried to make sense of the ma and the water level, we saw the Rough Riders, going all over the place--they were apparently having trouble relating the map to the actual terrain. Because of this, we were able to catch up. But unfortunately, on our way to CPs 10 and 11, their power-to-weight ratios proved to be better than ours. We took a shorter course back north, as did the Roughriders. They slowly pulled away, out of sight. We saw them again as we pulled up on CP10, which was on the bank, on a pipeline easement. They pulled away again. This would be a long paddle as we would have to paddle up the east fork, a bit past 1485. One thing that disturbed us was that on the map, on the way to CP11, there was no water--the creek was marked by dry bed. Nice. Travel was nice and uneventful at first, but as we got closer to the white, barren, rock-marked area of the map, the creek got tighter and shallower. In no time, there were sweepers, sandbars, and strainers impeding our progress. It was definitely getting on my nerves, especially with the water being so cold. I finally started screaming expletives. I was officially in perturbed mode. We continually asked each other if we thought if either Rick or Monty had even paddled up this way to check the travel. But through all this, the Warship was calm. Obviously, all his paddling experience had prepared him for this day. He told us to get out, drag the boat, and he even went for a swim to rescue our canoe! He was now the most valuable member on our team! He never, from what I could tell, stopped paddling or steering the boat...and you could tell when he stopped as it felt like all the sudden we were laden with several hundred pounds of lead shot.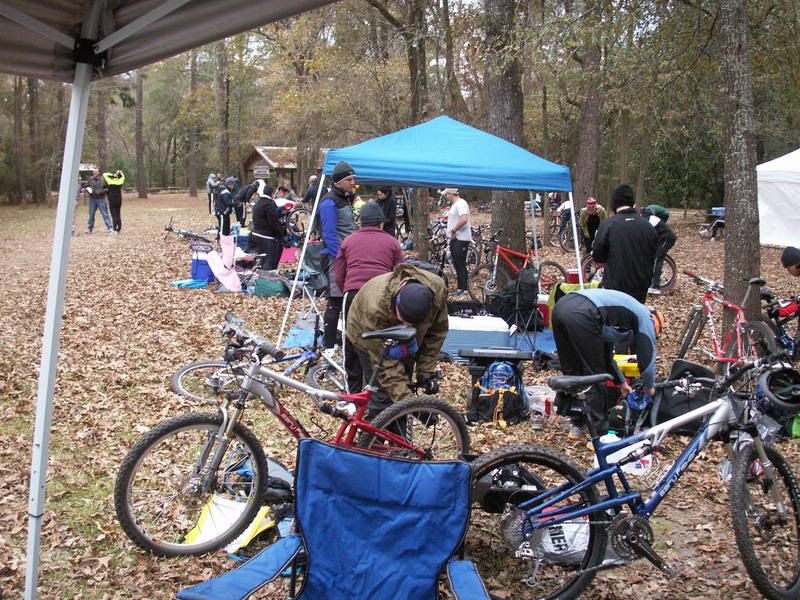 I can go on in detail about our trials and tribulations on this creek, but I will leave that one up to Jackie, who has rumored to have a novel in the making. Anyway, after what seemed to be an eternity, right after Weihan's swim, where we saw the Roughriders finally heading back the other way, we reached the bridge at 1485. Thank the lord. As we approached, there we saw Tracie, Rick, Boyd,....and Turnbull! We had seen him on his way to CP9 and it sounded like he was having trouble keeping my green Cobra Eliminator upright. So apparently he had turned in the towel shortly after that...and I understand his decision. With that cold water and the type of navigating he would have to do on the upper reaches of the east fork, I couldn't blame him. I'm actually surprised we didn't tip our boat even once. With CP11 in hand, we had to ride those currents back down the east fork and hope that they didn't run us into trouble. And then, that's when my heart sunk--we saw MOAT crushing up that creek in their racing canoe. It would just be a matter of time when they caught up to us. Regardless, we kept paddling, with encouraging comments from other teams still heading to CP11--they kept saying we were only a few minutes out of 1st place. Well, at least we could say we were in front of MOAT for a palpable amount of time.
We finally made it back to the bike drop and MOAT had by that time passed us and we were able to see them off before they left on their bikes back to TA. As soon as I took off my PFD, I was freezing! I kept shivering and I tried to put on a jacket that I had stashed in a dry bag, but the zipper would not engage, so I ended up not using it as we were wasting valuable time. So I bucked up and we kept going. I almost shook myself off of my bike, but I survived. We made it back to TA and that's when we took some time to get out of our wet clothes and get into something warmer, especially since we would be going on another bike leg, a marked course similar to the sprint course. By the time we mounted, no one else had made it back from the boats--we were still solidly in 3rd. The bike course was uneventful as we just had to follow signs and punch an orienteering flag along the way. We finished that leg and still no one was back from the boat--I was feeling even better about our chances. Then there was the Roughriders just ahead of us. We quickly transitioned out of the bikes...but then there was Weihan. Apparently he was going so fast that his shoes had melted and fused themselves to his feet. Actually, he had those fancy shoes that you have to click to get it tighter and I guess all that sand had worked its way in and wouldn't let the locks release. I told him I would buy him some velcro-only shoes. We finally had to pry the shoes off of him. Where's a shoe horn when you need one! CP12 was a few meters north of the hike-n-bike trail. More bushwhacking. With some slow, methodical pacing, we had caught back up with the Roughriders. But again they were out of there. No worries--we had gotten this far racing our own race, so we would keep it that way.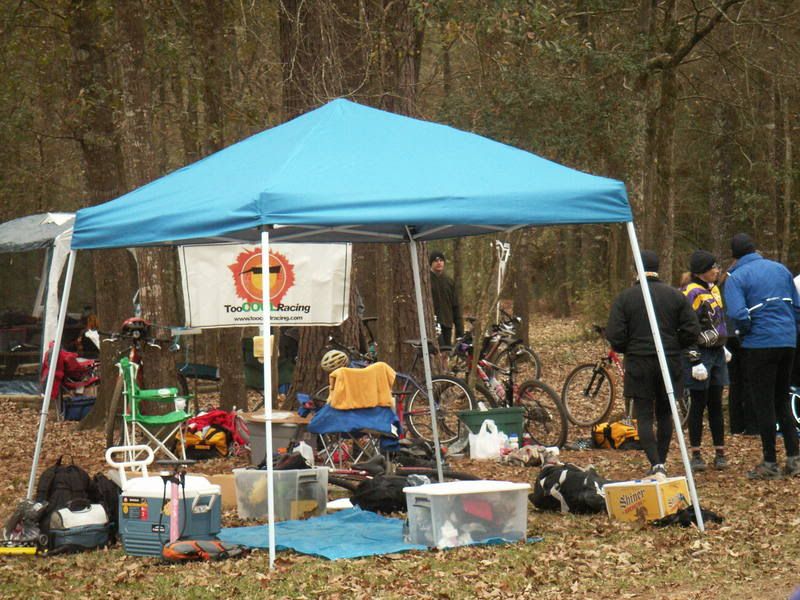 I backtracked to the hike-n-bike trail and followed it east towards CP13. The Roughriders tried to deadreckon from CP12, but they eventually popped out onto the trail we were using. We were even again. The trail started to turn south, so that's where I continued to pace, bushwhack 100-150m east to a supposed trumpet creeper. From my schooling at the Nature 101 classes provided by the Houston Arboretum, I knew a trumpet creeper was a type of vine, but that's all I could remember. At about 100m we started searching, and so did the Roughriders. We couldn't find it...it was in the middle of nothing, nothing in terms of definite land features, which makes it similar to an easter egg hunt. And believe me, at night, in that dense of a forest, it was an easter egg hunt. We were all executing our random search patterns when all of the sudden the Roughriders got together and then seemed to slip out into the darkness. They found the point?!?! Damnit! I had raced with Lisa, Tom, and Jason, so I knew how the Roughriders operate--they like to mislead other teams in several ways, and one of them is to walk away from a found CP and then suddenly disperse. I was positive that they had just punked us. I was kicking myself because I also usually imbed an operative near another team when it turns out to be an easter egg hunt like this one, just in case they find it before us...not this time. Oh well. Time was ticking and we still hadn't found it. So we decided to go back to our known point and do the pacecount again. Same thing, different team there looking for the CP with us--this time it was the all male team that seemed to shadow us the whole way. So we searched and searched again, until Weihan yells, "I think you're too far." Then Jackie chimes in, something about pacecount. Although we hadn't discussed this fully before, I knew what they meant. They had found the CP. So I rushed back to them and led them back to the trail. I was so happy that we had finally found this one--it was probably the hardest CP of the race. So we backtracked on the hike-n-bike trail back to TA. We kind of figured the Roughriders were well on their way on the bike leg, so it would be a matter of keeping 3rd now.
Since Weihan's shoes had malfunctioned, he would have to do this final bike leg in his normal running shoes. This worried me because this would potentially compromise our machine--he had pretty much pulled us through all the bike legs. Nevertheless, we continued on like nothing happened and we took the all to familiar dirt road south. Then we took a left on pipeline easement, which was hell on the bike. It was clear, but the surface was hella bumpy. This is where I knew Weihan was a monster--even though he didn't have his bike shoes on, he was gapping us on the bike! WTF?!? What is Apple feeding this beast?! Along the way we saw MOAT on their way back, making me think we weren't too far back from them...and, where are the Roughriders?! Did they somehow bust past MOAT and were now way ahead of us both?! Didn't know and didn't care at the time--I just wanted to be done with the hellish ride down the pipeline. CPs 14 and 15 were cake--right where I had plotted them. It was now back where we came and then all the way north on the dirt road up to 1485. As the clue said, "too easy." CP16 was right there on the fence. Now it was back to TA and the final leg of the race. When we got back to TA and didn't see the Roughriders and didn't see their bikes there, we knew something had happenened and we were now back in 2nd behind MOAT! Now it was down to 4 trekking points and we would be finished. It was a relatively short trek, so I just loaded up on fluids at TA and then left my pack there. We took the peach creek trail down to CP17, which seemed to be a couple hundred meters after the trail intersection with the hike-n-bike course. After reaching the first bridge, we headed north up the creek and there was the point. CP18 was west of the campsite along the trail, just north of the powerline easement. On the way, we saw MOAT on their way back. When we got the campsite, I told Jackie and Weihan we should start looking. Then Weihan decides to tell us that he saw something. Guess what, it was CP18. Thanks for letting us know, Weihan! LOL. CP19 was at the intersection of the powerline easement and a creek. Again, as we got within a few meters of the CP, Weihan spots it out of nowhere--eagle eye! We were now impressed! CP20 was the last point of the race. We decided to use the creek crossing for the zip line to get to CP20, which was close to the park entrance. When we crossed through Camp Holy Wild, they were having some kind of party...and nice, warm looking fire. I so wished that was me! I shook my head and refocused: CP20. Yet again, just as I say we should start looking for the CP, Weihan spots it. Eagle Eye, thanks for making navigating so easy!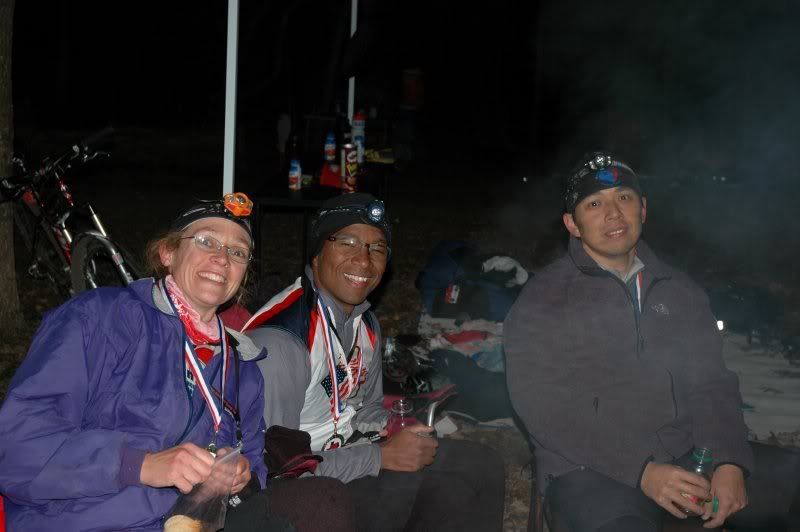 With that, we were on our final stretch to the finish. We were so happy to be done. And we were happier when we crossed the finish line, confirming that we captured 2nd place! What's even better, we were only 25mins behind the eventual winners, MOAT. This was such a great race for us--we had minimal snafus, great team chemistry and we didn't destroy each other. Yes, runner up to MOAT again at the Dare...getting closer, though!