Wild Wild West
WTF. Okay, can you guys please leave me alone so I can actually concentrate on adventure racing and Nationals?!? You know, I've always planned on getting a gun since moving to Texas about 5 years ago, mostly for the novelty of it, but now I'm convinced on getting at least two to make these assholes pay dearly for trying to "liberate" my gear from me, especially since I've worked so hard to get where I am now. I'm thinking Mossberg 590 pump-action with mil-spec. Some of you already know what transpired Saturday morning, at about 4am...Bang! Bang! Bang! Mo starts frantically trying to wake me up, asking me what the hell is that noise, which is so crazy since I was up about 30mins ago, having trouble going to sleep. I get out of bed and there, I hear the loud, bone-chilling noise. The house is shaking on its foundations. That's when I try to find anything to brain whomever is out there making all that racquet. The only thing I had close to me, which is sad, was my crutch. The banging was coming from the back door, so I went around through the dining room to get a better angle of attack. As I creep to the first back door of the kitchen, there appears out of nowhere a dark sillouhette of a man! I was already on the phone dialing 911 and I made sure whoever the home invader was knew that I was making the call. I shook my crutch at him and he immediately fled through the busted down 2nd door. I was in full defense mode at this time and told Mo to stay in the bedroom and not make any noise as I tried to get a squad car to come down here. I figured it would be a one block trip for them since Shipley's Donuts is usually always packed with them. First call, disconnected. 2nd call, I finally get to Houston Police after being routed through what sounded like a central calling bank. About an hour later, nothing. And, by the way, the asshole had cut the power, so we were sitting there in complete darkness.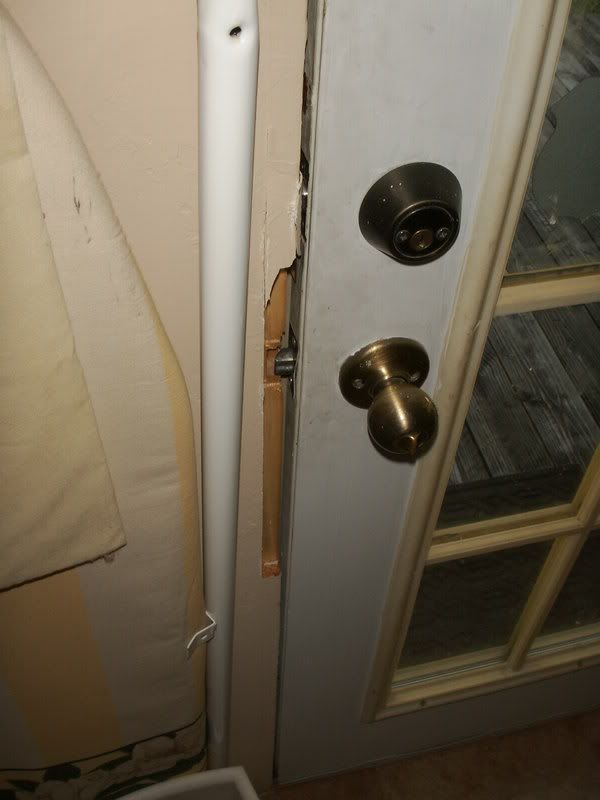 We had finally had it, we couldn't wait in the house anymore. We walked out the front door and over to Shipleys to see if any cops were sitting there. Of course for the first time ever, no one was there. We then walked over to the fire house that was also just a block away, but no one answered the door and the door was locked. Nice. We walked back to Shipleys and along the way we saw a couple of suspicious-looking people...and they were acting really suspicous. They kept looking back at us and changing their direction. Most likely they had done it, but how would we have known--I wished it wasn't so dark so I could have identified the guy. Anyway, we sat there outside Shipleys, shivering in the 50deg temps, waiting for anyone to stop by. Then, we had thought we found salvation--a pair of cruisers were flying by on Main St. and we tried to wave them down. First one ignored us (nice) and then the 2nd seemed to hesitantly stop and turn back around. Apparently we looked like crackheads because the cops stopped us from approaching their car. We told them our plight and then they proceed to tell us that they had NO JURISTICTION HERE and COULDN'T HELP US. They were Metro cops, not Houston Police. Well, that's nice to know. All these cops around us and they couldn't help, WTF. They did ask the Shipley's donuts manager if we could wait inside to get out of the cold, but that was it. They left. Thanks.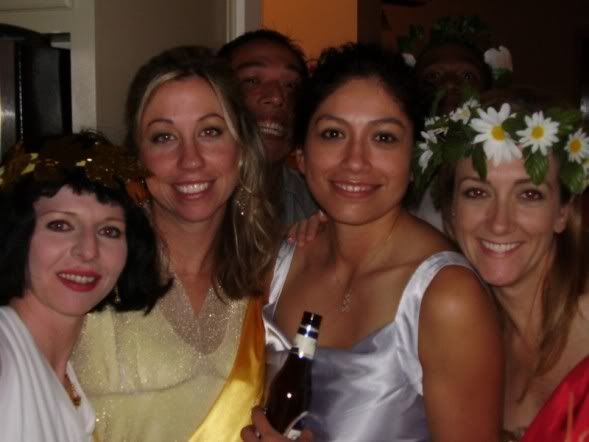 I couldn't take standing in the Donut shop anymore, so we went back into the dark, cold house and started fumbling around looking for a flashlight and/or matches. Since we had just moved here, everything was not where it should have been--all my flashlights were in the garage and I had no idea where the matches were. We finally found matches that Joe had left in the house and started lighting candles. I kept looking out the window, hopeful that the police would be arriving any moment now. 2.5 hours later, nothing. After calling one more time, we just finally laid down in our bed since it would be daylight anytime now anyway. Just as I was getting to sleep, I hear talking on radios and then finally a knock on the door. They were here. That officer had just got on duty at 6am, so I don't know what happened to the officers beforehand. Perhaps they were in the middle of a shift change, but that is just ludicrous--over 2 and a half hours after my initial call, and the first call was when the intruder was in our wash room. Again, WTF. The officer was actually pretty nice and was disappointed in Metro (they in fact could have helped us and I looked on their website which says they ARE granted FULL JURISDICTION in Harris County) and in the fact that it took so long for someone to get over here. But he did suggest getting ourselves a firearm, which I was already convinced on getting. It is sad that normal citizens have to arm themselves since the Police seems to be short-handed and cannot respond to every call expeditiously, but I guess this is Texas, the Wild Wild West. I wonder if I can get a gun rack installed in Touraeg...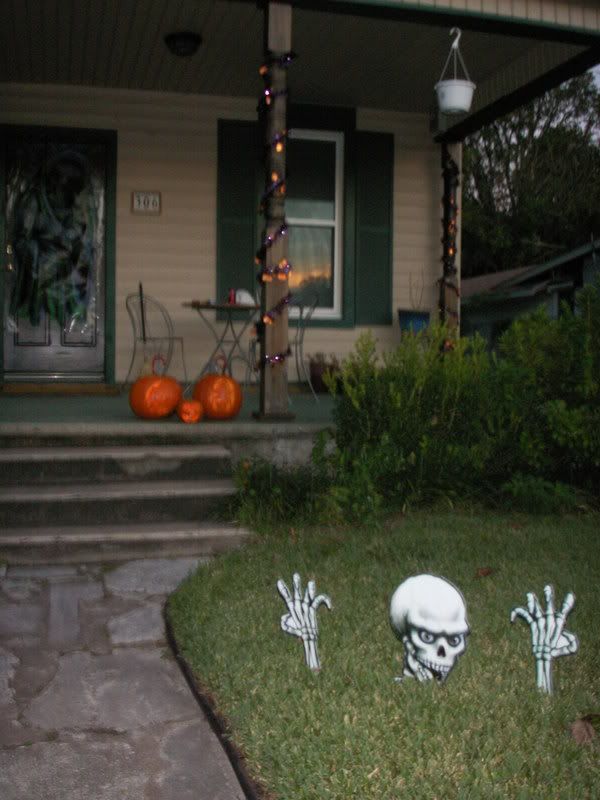 So my workout plans for that morning were of course shot. We went to the backyard with the officers and confirmed that they had turned off all the breakers in the fuse box, so the first thing we did that day was buy a lock. Joe stopped by Sunday as we had also called him right after the incident--he was very receptive and wanted to help as much as possible. He immediately talked to a carpenter he trusted and had the door fixed the next day, with additional reinforcement around the jamb. Thankfully Tina and Lisa's "Its Greek to Me" Halloween party was Saturday night, as we would have some tension release of some sort. Nick and Jaunda were in the area that day looking at a house, so they stopped by before the party to change and have a few glasses of wine. Nick really wanted to play with Nikko, methinks. We eventually left the house for the party. With an RSVP list of about 50, there was a really good showing. We had a good time, but because of the lack of sleep the night before, we turned in pretty early. Let me tell you, every little noise that night had me almost all the way out of bed, looking for my 15lb workout bar to use as a ground and pound instrument.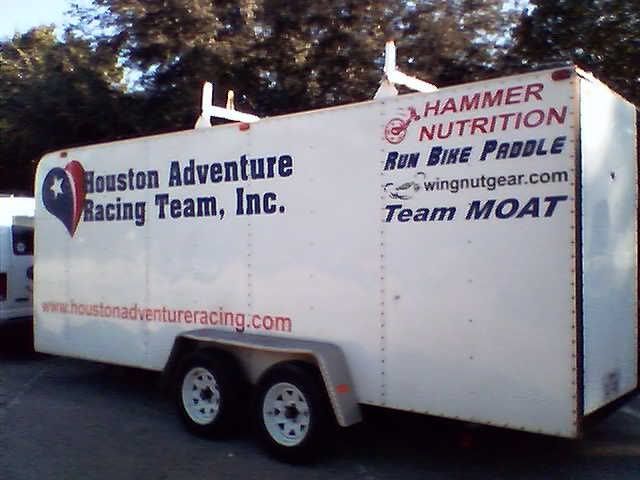 Sunday was a bit easy too. I had to go to the park that afternoon to load up my gear for Nationals--Rick was very kind to purchase a trailer and haul all of our gear to Santa Barbara. I got there and all the HART and MOAT teams were there. It was good to see everyone and joke around a bit. Then I headed back home for a pumpkin carving date with Mo. It was fun as this was probably only the 3rd or so time that I've carved a pumpkin and this was her first time. Since we were out late last night for the party, again, we turned in pretty early to get some rest before work the next morning. Workouts are/will be light this week since the race is coming up fast. Yesterday I went for an hour easy ride around the fruit loop and today I swam and plan to run an easy 3 miles later today. Then that's pretty much it. Its finally here, but I can't say I'm feeling the excitement yet--the effect of the home intrusion is still lingering over my brain. Man, get off the fucking crack and get your own fucking stuff, crackheads.
Cheers.